This site uses cookies. By continuing to use this site, you are agreeing to our use of cookies.

Learn More.
BASED Community

The award-winning Project Reality Team is proud to announce the official release of Project Reality: BF2 v1.4!
​
First of all, a big thank you to our
PR Community
for sticking with us during this long development cycle, we can't wait to play this release with the players.
Project Reality:BF2 v1.4
In PR:BF2 v1.4 we implemented the long awaited Falklands Theater, a rework of tanks and jets, 3 new maps and countless other content additions. To get more information on what's in this release, read the
announcement post
.
What's in store for PR next? We are working hard on PR:WWII, a mappack and multiple community factions alongside many additions to our current factions. More info will follow soon, but now it's update time!
Trailer
Enjoy the official Project Reality: BF2 v1.4 release trailer here while you're downloading the new update:
Main Features & Changes
Added British and Argentinian factions based on the 1982 Falklands War.
Added Bren L4A4 LMG, L42A1 sniper rifle, L2A3 Sterling SMG, FMK1 AP & FMK-3 AT mines.
Added Tigercat SAM and Rheinmetall 20mm AAA.
Added A-4 Series, Mirage IIIEA, IAI Dagger, Sea Harrier FRS.1 & Harrier GR.3 aircraft.
Added M163 AAV, T-72B & T-72S tanks.
Added Goose Green (2x2km) and The Falklands (8x8km) levels for the Falklands...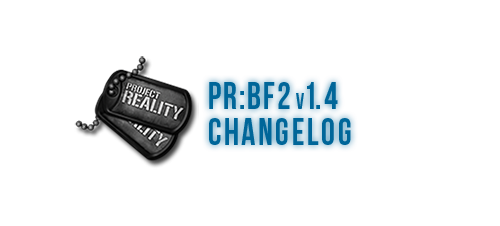 After more than a year since our last release, it's finally time for the next version of Project Reality: BF2 - v1.4!
​
This update brings several new features and additional content such as the Falklands Theater addition, 3 new maps, dozens of new weapons and vehicles, various new and updated content and countless improvements, bug fixes and tweaks across all areas of the game. To get some more information
read the release announcement here
.
We plan to release PR:BF2 v1.4 this weekend, but unforeseen complications could delay it further. Stay tuned to our forum for more information, media, and of course the release. The wait is almost over!
PR:BF2 v1.4.0.0 Changelog
(2016/November/X)
-----------------------
KEY FEATURES:
Added British and Argentinian Factions based on the 1982 Falklands War.
Added Bren L4A4 LMG, L42A1 Rifle, L2A3 Sterling SMG, FMK1 AP & FMK-3 AT Mines.
Added Tigercat SAM and Rheinmetall 20mm AAA.
Added A-4 Series, Mirage IIIEA, IAI Dagger, Sea Harrier FRS.1 & Harrier GR.3 aircraft.
Added IDF M163 AAV, T-72B & T-72S tank.
Added Goose Green (2x2km) and The Falklands (8x8km) levels for the Falklands Theater.
Added Bamyan (4x4km), Afghanistan based level.
Added muzzle flashes for night maps.
Updated many vehicle physics models to fix exploits and improve armor definition....

​
After a long wait, we can finally share more of what to expect for the next major release of Project Reality:
v1.4
. The much anticipated Falklands theater will make its re-introduction, but what else is there? Here is a listing of some of the major features you can expect to see in the next release.
Throughout this announcement, many topics will be linked to previously released blogs and highlights with more detail. This is by no means a full and complete list of all features and content. For that see the full changelog which we plan to release tomorrow. We plan to release v1.4 in the next few days. But unforeseen consequences could push this back. Let us now introduce u to the changes:
The Falklands
The Falklands Expansion has finally been fully integration into v1.4, and it has received quite an update since it was last released with v0.981. Featuring the British and Argentine factions with kit and weapons from the 1982 war, with some brand new infantry weapons, such as the
L4A4 Bren LMG
, the Sterling submachine gun and the
Shorts Blowpipe
to name a few. There are also some new stationary weapons such as the...
Hey Guys!
Firstly sorry it's been such a long time since my last update, but some real life issues came up earlier in the year and then in the summer I got an opportunity to travel to Indochina and the North American Great Lakes for a couple of months which I couldn't turn down. As such I'm sorry to say that I haven't been able to work on PR as much as I originally planned to this year and I regret to inform you, that we have decided that the Type 21 Frigate, and some other assets and gameplay features related to it will not be making the v1.4 release as we had originally stated. However we are all working on doing the final polish for v1.4 and there are still a lot of other features for you to enjoy, and the Frigate will just be making an appearance at a later date is all
With that said let's take a look at some of the new stuff coming with the v1.4 PR: Falklands integration!
This highlight is mostly an extension of the
PR:F Update #15
highlight where we have added and changed a few things since that was written
Mk17 1000lb General Purpose Bomb
This British-made dumb bomb is a relic of WW2, with an updated tail thin and arming fuse than its original WW2 design but it's basically the same bomb that Lancasters Bombers dropped on Berlin.
This bomb was used by both sides during the war since ironically, the British sold lots of these...
​
Hello beautiful people of BASED,
On
Wednesday, the 16th of November at 1000PRT
we will have some scheduled downtime. We will migrate our Website(s), databases and our Teamspeak server to our EU dedicated server.
This means you will encounter downtime while using any BASED services.
We apologize for any inconvenience this may case, hopefully it will not take long.
Play
Squad
for FREE starting now through Sunday at 1PM Pacific Time. You can also pickup
Squad
at 50% off the regular price*!
Squad is a 50 vs 50 multiplayer first-person shooter that aims to capture combat realism through communication and teamplay. Major features include vehicle-based combined arms gameplay, large scale environments, base building, and integrated positional VoIP for proximity talking & radio.
*Offer ends Monday at 10AM Pacific Time
​
Source

​
Today we are happy to announce and promote an official map pack made for the COOP community. This map pack was a joint effort by
Rabbit
and
[R-CON]Spyker2041
, delivering 7 maps to play on in the Cooperative / Singleplayer gamemode. It includes custom maps from vanilla Battlefield 2 that have been totally revamped with PR content and 1 retired Project Reality map.
This is an official map pack so servers will be allowed to host these maps without a password.
Many thanks to all mappers credited below for allowing us to remake their maps and use them in the map pack.
Recruits, Sign-Ups are Open!
​
After reviewing many applications for officer positions, the Supreme Commanders are now ready to receive applications for grunt positions in both teams! In the past week, the teams have been working on setting up a team structure, contacting their officers, and assigning roles and responsibilities to ensure that the team staff and the squad leaders are dedicated and active to provide everyone with a great campaign.
​
Support your team by organizing and participating in team and squad trainings or help planning the strategy for the next battle. If you prove your leadership and fighting skills on the battlefield, work on your team's propaganda or recruit and train members for your team you can move up the ranks easily, as the past campaigns have shown.
Case in point, many of the staff of both teams joined PRT Campaign 10 and 11 as normal soldiers and were quickly promoted to SL and even higher for their work for the team. Do not hesitate to join up - even if it's only a reserve slot - everyone gets their fair chance to play and be promoted to normal soldier!
Training and playing sessions are organized by teams and squads.

Two new teams: "

Allied Pacific...