This site uses cookies. By continuing to use this site, you are agreeing to our use of cookies.

Learn More.
BASED Community
Recruits, Sign-Ups are Open!
​
After reviewing many applications for officer positions, the Supreme Commanders are now ready to receive applications for grunt positions in both teams! In the past week, the teams have been working on setting up a team structure, contacting their officers, and assigning roles and responsibilities to ensure that the team staff and the squad leaders are dedicated and active to provide everyone with a great campaign.
​
Support your team by organizing and participating in team and squad trainings or help planning the strategy for the next battle. If you prove your leadership and fighting skills on the battlefield, work on your team's propaganda or recruit and train members for your team you can move up the ranks easily, as the past campaigns have shown.
Case in point, many of the staff of both teams joined PRT Campaign 10 and 11 as normal soldiers and were quickly promoted to SL and even higher for their work for the team. Do not hesitate to join up - even if it's only a reserve slot - everyone gets their fair chance to play and be promoted to normal soldier!
Training and playing sessions are organized by teams and squads.

Two new teams: "

Allied Pacific...
Time for another step towards 1.4 with another public beta.
We got some more python changes that we need to test with full servers. All changes from
previous beta
will still be featured along of a few new additions. The focus this time lies on technical changes.
Yosik
and
palko
managed to update the python library of PR to version 2.7.12 up from 2.3.4. This increases performance, unlocks previously not available modules+functions and hopefully increases stability.
The beta is planned to run for one week, but will be extended or reduced as we see it necessary.
We provided the files to a couple of servers using both Windows and Linux versions to test if everything works smoothly.
Servers (updated as more join):
DIVSUL
The few changes:
General
:
Updated Python version to 2.7.12
Added custom built in modules to increase performance
Realityassets
:
Added check to prevent building on top of caches
Added check to prevent building on top of enemies
Continue reading...
​
PASSWORD: based1
Dear BASED,
So for those who aren't aware, this 14th of September marks the 1 year anniversary of BASED. To celebrate,
we will be hosting a mappack on Wednesday, 14th of September at 1830PRT!
More info below.
It is honestly a huge moment for our community. 1 year ago, we left PRTA to join a teamspeak hosted on a crappy VPS that barely had enough slots for Tier Zero, let alone the other 9 clans that left. BASED now runs servers for both PR & SQUAD. We can grant admin powers and reserve slots via our forums. We have a multiserver control panel that allows us to ban rule breakers from all of our servers via a browser. All of our admins can login and query logs on players from all of our servers at once.
TL;DR
we have gone from basically nothing, to having an extremely advanced, automated, and easy to use system.
During the event,
we invite everyone interested in coming and hanging out to join us on our teamspeak.
Its highly likely that many of us will be very drunk and having many laughs on teamspeak, so come join the fun.
​
List of maps:
- Adak v9.14 by Rusty42
- FuShe Pass revamped by Rabbit
- Nuijamaa_v2 by Rabbit
- Strike at...
Campaign 12 Announced!
Official Project Reality Tournament
​
The PRT Management Team is happy to announce the 12th Campaign of the Official Project Reality Tournament! Following the thrilling and balanced battles of Campaign 11. Once again, the PRT Staff have been working hard to prepare for this year's campaign, and once again we aim to deliver the ultimate Project Reality experience. C12 will be composed of 2 Prep-Battles + 6 Official Battles.
The new Staff is also excited to announce some brand new features for this campaign. Designed for newcomers and hardened veterans alike, the PRT will provide a professional atmosphere for all types of players to improve and experience PR at its best.
In this large-scale campaign, we are pleased to introduce two newly formed coalitions:
Allied Pacific Nations
(
APN
) will fight against the
Euro-Arabian Military Coalition
(
EMC
). Both teams will be assigned specific factions to play in order to contest the other for supremacy in the tournament.
​
We actively strive for a good team balance that will result in some of the most thrilling and organized matches you will have ever experienced. Sign up and work your way up in the...
Project Reality: WW2 Beta - hosted by BASED
With this announcement, BASED is planning to revive the WW2 extension for Project Reality.
Server:
Server will be online from Saturday 20th to Sunday 21st. On the NA server.
Installation:
If you have lost your installation of PR:WW2, don't worry you can download it from here:
BASED EU
:
http://eu.alwaysbased.com/pr_ww2_0.2.0.0_full.iso
(Western Europe)
You can find the installation guide
here.
Feedback:
As always we encourage you to supply the PR:WW2 devs with the needed feedback of the mod. You can give feedback to the devs from
here.
Today we started a public test for upcoming v1.4 Python(our main gameplay coding language in PR:BF2) changes and fixes. The test will run for one week and will be hosted on these servers:
PRTA EU
Hardcore
Report bugs and feedback from playing on these servers here:
Feedback thread
These are server side changes. You don't need to download anything!
Changelog:
Realityassets
:
Updated outpost overrunning system. They now get overrun when:

8 soldiers are within 150m
4 soldiers are within 100m
2 soldiers are within 50m

Outposts stay overrun for 30 seconds and will become active 90 seconds after being build
Realityvehicles
:
Increased first disable roll limit to 50% up from 40%
Increased second disable roll limit to 25% up from 20%
Realitycivilian
:
Spawning as civilian medic should now be considered helping the insurgency
Civilians are now considered helping the insurgency using the shovel or deploying assets
AAS
:
Active flag markers should be more reliable
Made attackers unable to "hold" a flag. If you do not have the required...

​
Hi Squaddies,The day is finally here. Vehicles have arrived. It has been a long road for everyone on the development team, and especially you, the player. But finally one of our long awaited features is ready to roll out. Besides this, our programmers, production artists, mappers, testers and support staff have all been hard at work producing other content that will certainly make Version 7 one of our biggest and most ambitious patches yet.Version 7 is now available via Steam and below is a full changelog.For a summary of the major changes, please read our previous news post
HERE.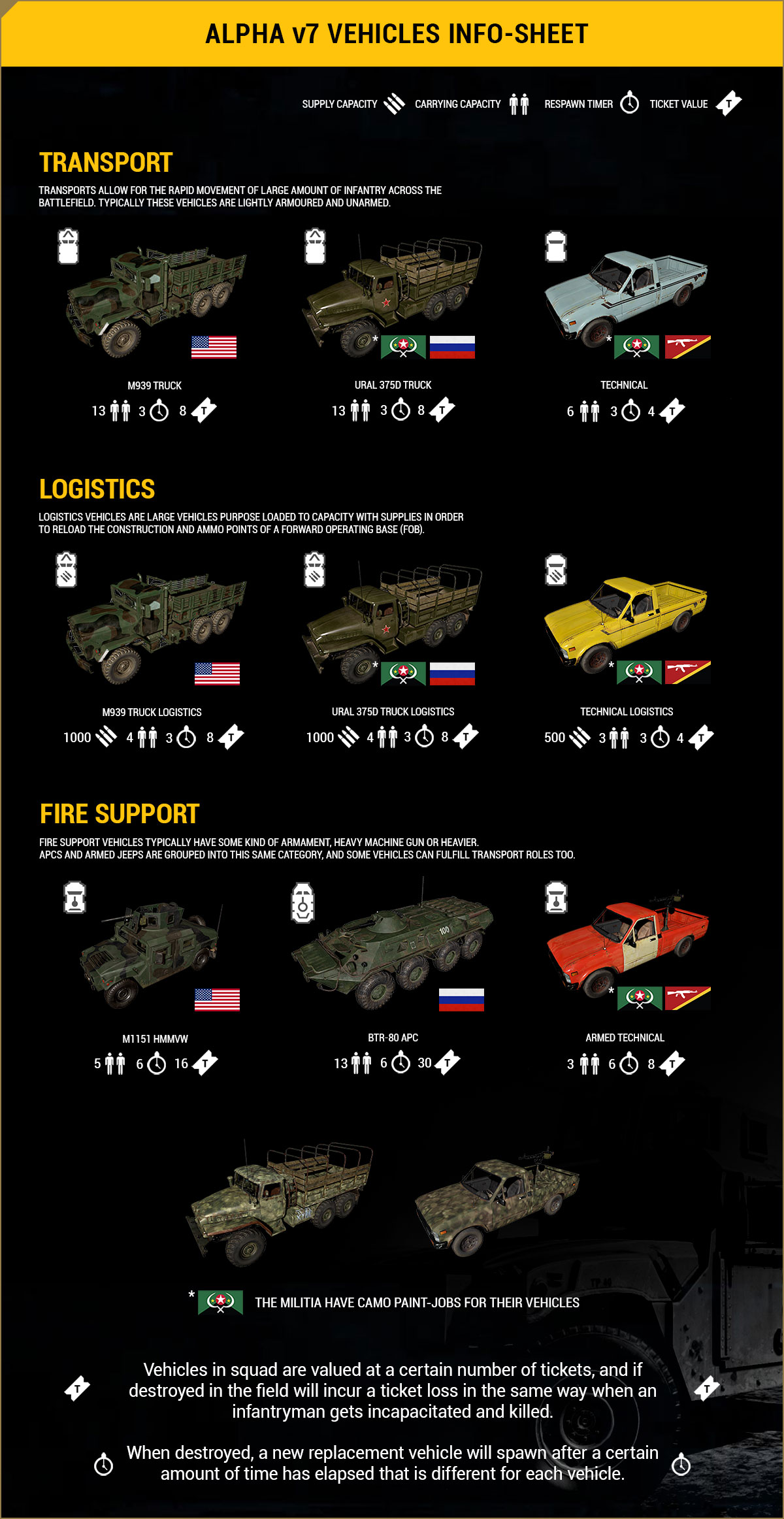 ​
Starting map tickets have been increased across the board by about 150-200 tickets. This gives more room for a comeback and to accommodate vehicle losses.Vehicles have a respawn timer from 3-6 minutes from the time that the vehicle is lost. Vehicles with weapons on them have a respawn timer of 6 minutes. Note that some vehicles on some maps have no respawns and are a one...
​
Some of you may had a glimpse at some threads (that we removed) or heard rumors, but it's true that our forums have been breached in recent months. At least once that we know of. This breach included emails, usernames and possibly passwords. As we couldn't find several users in the breach it's likely the breach was only partial.
As many of you know our forum software is old and with no active web-developers this is very likely not going to change soon. So our security is not as good as it likely should be.
We have forced a password change on all our users here and on the Official PR Tournament forums and ask you with this notice to not use the same or similar passwords that u use here on other services. Please notify people that might not read this forum anymore as well of this.
We apologize for not being able to provide you with the security you deserve, but being a volunteering group it's sometimes hard to provide our players next to the game development also the best web service.
We hope you understand and once again we apologize for any inconvenience this may have caused you.
-PR Management
Continue reading...