BASED Community

Hi Squaddies!
It's fragging time! Get your helmets dusted off, boots on the ground and be ready to welcome the masses as we ship our free weekend patch to the community in anticipation of the free weekend which will be launching
Thursday 6th April at 10 AM PST
.
And don't forget Squad and it's soundtrack will also be
50% off
for the duration of the free weekend and
our Squad merchandise will be 30% off!




We are also launching a new 9.2 Patch that contains some improvements and treats to help make the free weekend more enjoyable and rewarding for the community.
Server Queues
We are releasing server queues with this Free Weekend! This means you should never see Server is Full again unless something went terribly wrong.
Features:

​




Auto-joins when there is room (Although that should be assumed.)

No limits on queues as many people as long as they want.

Queues split by public and reserve, reserve joins first.

No more wasted loading times. No longer loading to see "Server is full".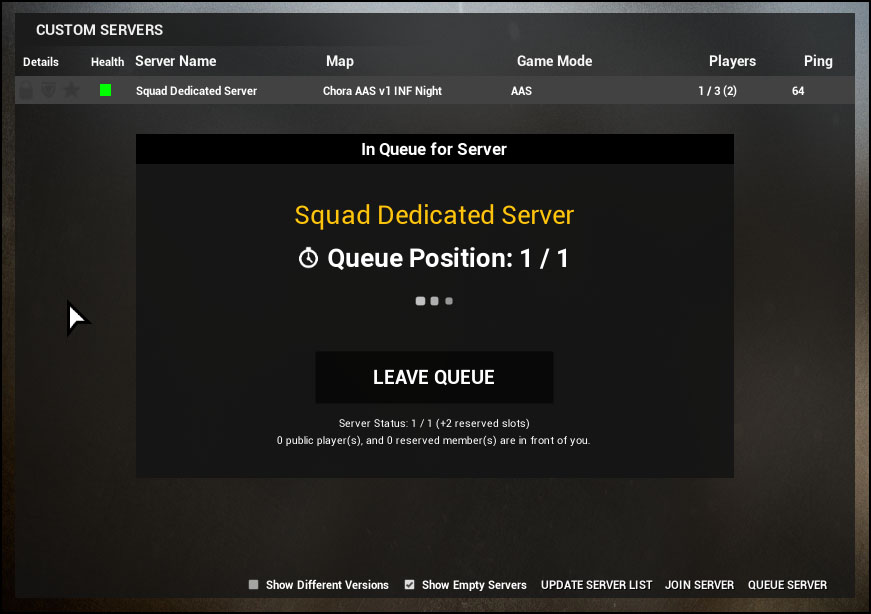 Lastly to address the server browser in general. There are fixes for some of those issues at...
​

Hi Squaddies,
The day has finally arrived. After much tribulation we present to the world Alpha 9 of Squad! It is now available via Steam so be sure to update before playing.
In addition to upgrading to
Unreal Engine 4.14
, this update comes packed with a whole lot of content related additions including new vehicles, map expansions, gameplay changes and balance tweaks.
For more information on some of the major new additions in this version, please take a look at our
Feature Preview for Version 9 put out recently.
Version 9 is now available via
Steam.
Please
always
reset your appdata in the game settings on every new build!

​
Full Changelog
Gameplay​
Added Minsk 400 Motorcycle, BRDM-2 Scout Car and MT-LB PKT APC to the Insurgent vehicle pool
Added BTR-80 APC, BRDM-2 Scout Car, MT-LB NSVT APC and MT-LB 30mm Cannon IFV to the Militia vehicle pool
Added BTR-82A IFV, MT-LB NSVT APC, MT-LB 30mm Cannon IFV and Ural 4320 truck to the Russian vehicle pool.
Added Stryker ICV to the US Army vehicle pool
FOB Radio Hub no longer creates a spawn point
Added a new FOB Deployable, the 'HAB', which...
​
This small update provides additional fixes and changes to improve the game since the PR:BF2 v1.4 launch.
v1.4.6.0 is available now!
PR:BF2 v1.4.6.0 Changelog
(2017/March/07)
-----------------------
VEHICLES:
Fixed BMP-3 bow MGs shooting straight for other players.
Fixed FSA logistics van.
Fixed Stormer smoke ammo counter.
Fixed not being able to switch back from POV cameras in some choppers.
Unlocked _bf2 vehicles for humans.
Updated Apache to have 60° down angle and better align the sight.
Updated Puma to have grey instead of green thermals.
Updated thermals to make vehicle dust effects "cold" and semi-transparent.
WEAPONS:
Fixed CAS small caliber weapons having way too much splash.
Fixed SVD sight alignment.
Updated AAV missiles to have less recoil.
Updated GLATGM to have less recoil.
Updated MG3 MMG ammo to 150 from 120.
LEVELS:
Bamyan
Beirut
Burning Sands

AAS32: Replaced T-72M with Scorpion.

Fools Road

AAS16: Added night factions with flares.

Gaza

INS16: Updated cache count to 3 from 2.

Vadso

Removed pre placed firebase (spawn rally remains).
Continue reading...
​
This small update provides additional fixes and changes to improve the game since the PR:BF2 v1.4 launch.
v1.4.5.0 is available now for servers and will soon be available to clients through the automated updater.
PR:BF2 v1.4.5.0 Changelog
(2017/February/12)
-----------------------
GENERAL:
Added option in PR Launcher settings to disable LOD switching for static objects. Experimental to test performance impact.
Added option in PR Launcher settings to clear logo cache on launch.
Added new WHOT/BHOT switching for thermals in vehicles and weapons featuring this.
Fixed asset overview not correctly showing decimal spawn times.
Fixed commander laser marker not working.
Fixed snow effects showing HOT on thermal.
Fixed various weapons and vehicles not having proper muzzle flashes on night layers.
PYTHON:
Fixed being able to get more than one rally point.
Fixed being able to spawn on disabled outposts.
Fixed commander CAS marker.
Fixed ban_info.log not showing banning admin.
VEHICLES:
Updated and optimized Lynx helicopter model.
Updated M2A2 Bradley gunner HUD to be less pixelated.
Updated coax MG of many vehicles to represent ammo per belt and total carried more realistically.
Fixed doorgunners clipping through sides of CH-146 helicopter.
Fixed VN-3 being too strongly armored.
Fixed MTLB 7.62 gun not overheating.
Fixed Mirage IIIEA R.530...

​
Hello people of based, over the past weeks allot of changes has been made and here is a list of all the changes.
Changes in the admin team
Some of you may have noticed that we have recieved new senior admins. To make up for the inactivty for a while, they are now each in charge of different parts of the admin team.
We have
@Dusan
who takes care of ban appeals and player complaints.
We have
@Lorfah
who will be taking care of ban votes are put through and that people are banned when the votes end.
we have
@Disnoxxio
the unlikely player coming out of left field, who takes care of watching the realitymod forums and making sure things are responded to and relayed back onto the based website if we need to know stuff.
and we have
@blacktea65
who is going to be Internal Affairs and take care of admin complaints and he is also going to give out the warnings/punishments to the admins that break rules.
@Fnixer
has Resigned as PR Lead Admin and
@Zarenx
has been voted in as the new one.
We have also made changes on the rule side
Rule 5.2 changed
[OLD rule]5.2 - You are not allowed to attack the enemy team's first cappable flag within the first ten minutes, unless the map is specifically designed for such attacks. This includes maps with spawn...

​
The Project Reality team would like to announce the release of an official retro map pack! This map pack brings back
21 maps
that were part of Project Reality in the last 11 years.
Featuring both Advance And Secure as the primary gamemode and Co-Operative gamemode for our Co-Op community, these maps are updated with latest assets and gameplay in mind. Get ready to see more of the Dutch faction and new adversaries such as MEC vs. RF!
This is an official map pack so servers will be allowed to host these maps without a password.
As part of the release,
Hardcore Gaming
will be hosting the map pack on their server this New Year's weekend! Many thanks for their support.
We'd like to thank authors over at...
​
This small update provides additional fixes and changes to improve the game since the PR:BF2 v1.4 launch. We also started working on new features and content for the future and due to changes in our workflow you'll see many smaller items released on a more regular schedule, exciting times ahead!
v1.4.4.0 is available now for servers and will soon be available to clients through the automated updater.
PR:BF2 v1.4.4.0 Changelog
(2016/December/21)
-----------------------
PYTHON:
Fixed various reported errors.
VEHICLES:
Fixed issue with Mi-17 ambient sounds for gunners.
Fixed seating, camera and wheel positions.
Fixed Lynx helicopter missing collision in the front.
Fixed FOV on 50cal MTLB.
Fixed ammo counter not showing on Fuchs MG3 while not scoped.
WEAPONS
Updated AK74M animations by lowering them.
Fixed IDF Matador projectile going through objects.
Fixed invisible wires with tripwire and trip grenades.
Fixed issue with Negev overheat.
Fixed various weapons showing muzzle effect when scoped.
STATICS
Fixed gravestones taking down vehicles.
Added resupply points for Essex Carrier so it's consistent on all maps.
LEVELS:
General

Added CNC layers to multiple maps mimicking AAS assets: Khamisiyah, Saaremaa, Vadso City, Battle of Ia Drang, Dragon Fly, Fools Road, Sbeneh Outskirts.

...
War of the Factions - Adak- 18-12-2016 -Russian victory-

​
When?
: 18th of December 2016 at 20:00 PRT
What?:
War of the Factions event
Sign ups?:
Team one
: Wicca
Team two
: FFG​
BASED is very pleased to announce the hosting of once another War of the Factions.
This fierce battle between 2 completely different factions will take place on the 18th of December 2016 and will be hosted on BASED EU and organised by 2 experienced commanders:
@FFG
and
@Wicca
But first, a short introduction or dusting off to the concept of what War of the Factions is. Incase you didnt experience the last one.

War of the Factions is what exactly?
War of the Factions was originally founded back in 2014 as a project made and thought of by
@Wicca
(who you may vaguely remember
). As a PR vet that had been playing for over a decade he thought of a concept where every battle can be fought completely...