This site uses cookies. By continuing to use this site, you are agreeing to our use of cookies.

Learn More.
BASED Community
​
PASSWORD: based1
Dear BASED,
So for those who aren't aware, this 14th of September marks the 1 year anniversary of BASED. To celebrate,
we will be hosting a mappack on Wednesday, 14th of September at 1830PRT!
More info below.
It is honestly a huge moment for our community. 1 year ago, we left PRTA to join a teamspeak hosted on a crappy VPS that barely had enough slots for Tier Zero, let alone the other 9 clans that left. BASED now runs servers for both PR & SQUAD. We can grant admin powers and reserve slots via our forums. We have a multiserver control panel that allows us to ban rule breakers from all of our servers via a browser. All of our admins can login and query logs on players from all of our servers at once.
TL;DR
we have gone from basically nothing, to having an extremely advanced, automated, and easy to use system.
During the event,
we invite everyone interested in coming and hanging out to join us on our teamspeak.
Its highly likely that many of us will be very drunk and having many laughs on teamspeak, so come join the fun.
​
List of maps:
- Adak v9.14 by Rusty42
- FuShe Pass revamped by Rabbit
- Nuijamaa_v2 by Rabbit
- Strike at...
Campaign 12 Announced!
Official Project Reality Tournament
​
The PRT Management Team is happy to announce the 12th Campaign of the Official Project Reality Tournament! Following the thrilling and balanced battles of Campaign 11. Once again, the PRT Staff have been working hard to prepare for this year's campaign, and once again we aim to deliver the ultimate Project Reality experience. C12 will be composed of 2 Prep-Battles + 6 Official Battles.
The new Staff is also excited to announce some brand new features for this campaign. Designed for newcomers and hardened veterans alike, the PRT will provide a professional atmosphere for all types of players to improve and experience PR at its best.
In this large-scale campaign, we are pleased to introduce two newly formed coalitions:
Allied Pacific Nations
(
APN
) will fight against the
Euro-Arabian Military Coalition
(
EMC
). Both teams will be assigned specific factions to play in order to contest the other for supremacy in the tournament.
​
We actively strive for a good team balance that will result in some of the most thrilling and organized matches you will have ever experienced. Sign up and work your way up in the...
Project Reality: WW2 Beta - hosted by BASED
With this announcement, BASED is planning to revive the WW2 extension for Project Reality.
Server:
Server will be online from Saturday 20th to Sunday 21st. On the NA server.
Installation:
If you have lost your installation of PR:WW2, don't worry you can download it from here:
BASED EU
:
http://eu.alwaysbased.com/pr_ww2_0.2.0.0_full.iso
(Western Europe)
You can find the installation guide
here.
Feedback:
As always we encourage you to supply the PR:WW2 devs with the needed feedback of the mod. You can give feedback to the devs from
here.
Today we started a public test for upcoming v1.4 Python(our main gameplay coding language in PR:BF2) changes and fixes. The test will run for one week and will be hosted on these servers:
PRTA EU
Hardcore
Report bugs and feedback from playing on these servers here:
Feedback thread
These are server side changes. You don't need to download anything!
Changelog:
Realityassets
:
Updated outpost overrunning system. They now get overrun when:

8 soldiers are within 150m
4 soldiers are within 100m
2 soldiers are within 50m

Outposts stay overrun for 30 seconds and will become active 90 seconds after being build
Realityvehicles
:
Increased first disable roll limit to 50% up from 40%
Increased second disable roll limit to 25% up from 20%
Realitycivilian
:
Spawning as civilian medic should now be considered helping the insurgency
Civilians are now considered helping the insurgency using the shovel or deploying assets
AAS
:
Active flag markers should be more reliable
Made attackers unable to "hold" a flag. If you do not have the required...

​
Hi Squaddies,The day is finally here. Vehicles have arrived. It has been a long road for everyone on the development team, and especially you, the player. But finally one of our long awaited features is ready to roll out. Besides this, our programmers, production artists, mappers, testers and support staff have all been hard at work producing other content that will certainly make Version 7 one of our biggest and most ambitious patches yet.Version 7 is now available via Steam and below is a full changelog.For a summary of the major changes, please read our previous news post
HERE.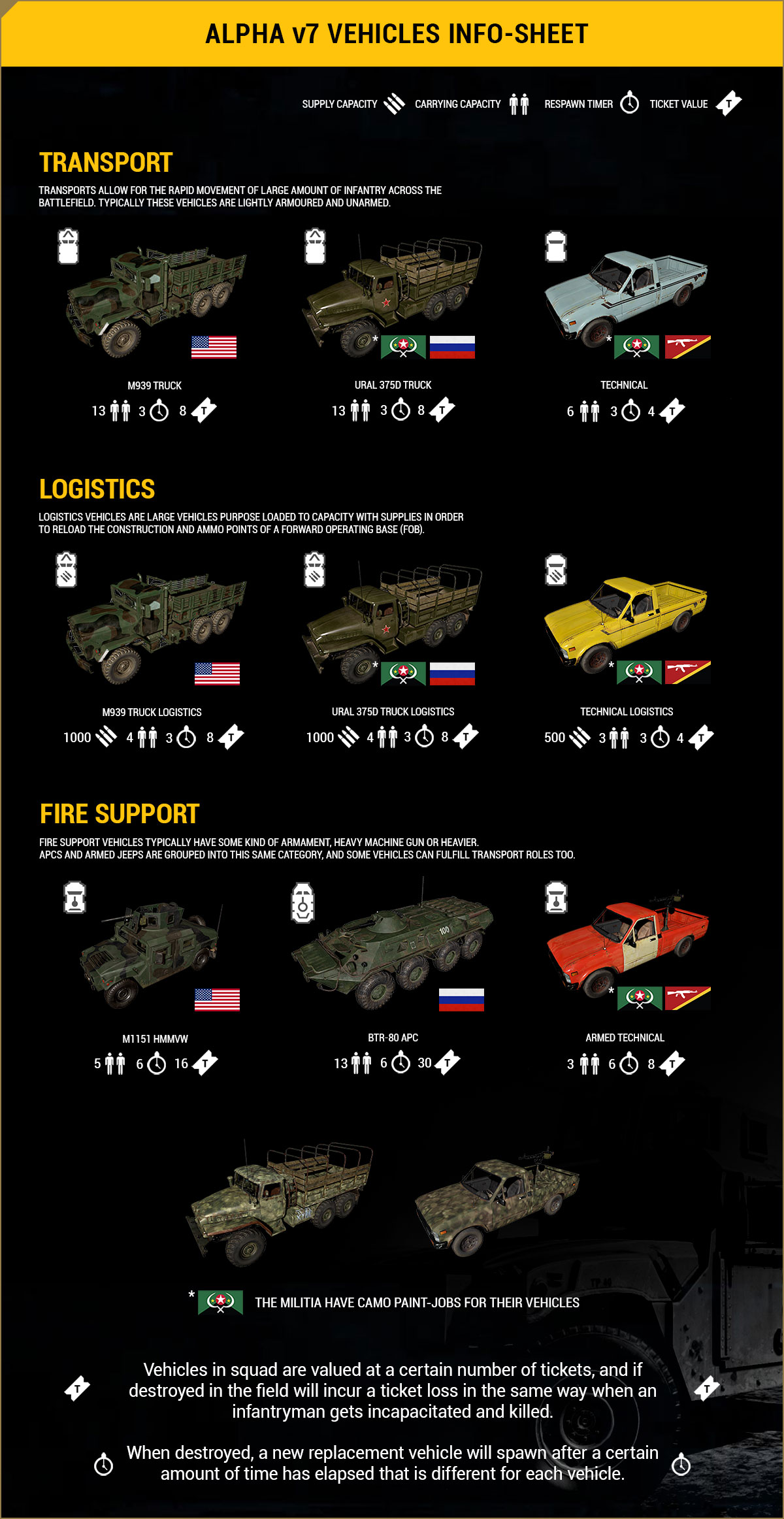 ​
Starting map tickets have been increased across the board by about 150-200 tickets. This gives more room for a comeback and to accommodate vehicle losses.Vehicles have a respawn timer from 3-6 minutes from the time that the vehicle is lost. Vehicles with weapons on them have a respawn timer of 6 minutes. Note that some vehicles on some maps have no respawns and are a one...
​
Some of you may had a glimpse at some threads (that we removed) or heard rumors, but it's true that our forums have been breached in recent months. At least once that we know of. This breach included emails, usernames and possibly passwords. As we couldn't find several users in the breach it's likely the breach was only partial.
As many of you know our forum software is old and with no active web-developers this is very likely not going to change soon. So our security is not as good as it likely should be.
We have forced a password change on all our users here and on the Official PR Tournament forums and ask you with this notice to not use the same or similar passwords that u use here on other services. Please notify people that might not read this forum anymore as well of this.
We apologize for not being able to provide you with the security you deserve, but being a volunteering group it's sometimes hard to provide our players next to the game development also the best web service.
We hope you understand and once again we apologize for any inconvenience this may have caused you.
-PR Management
Continue reading...
Another classic map has been updated for v1.4. This time it's Gaza (Beach).
First introduced in v0.9 featuring then new Israeli Defense Forces faction and their opposition faction Hamas, Gaza has probably been the definition of close quarters hell in Project Reality.
The new Gaza has been in works since
2011
but remained on hold most of its time due to my absence. I'm proud to announce that after a year of work I've completed it and it will replace the current Gaza in v1.3.9 with v1.4 release.
View the full album here
​
It differs from old Gaza a lot; the main bases have been switched around, new road system, new areas in general although some portions of the city remained unchanged, see if you can spot them.
A special addition to this map relates to the building commonly known as the "T-shape". Walls now block the staircase from outer view, making it slightly harder to hold the building by camping the staircase. Not all T-shapes on the map feature this, but the ones that matter do.
As for gamemodes, the map features the usual Insurgency and AAS along with Skirmish and of course Co-Op support.
Insurgency features over 600...

​
Hi Squaddies,
June has been an extremely busy time for us, with work on Version 7 well underway and a majority of the team focusing on getting vehicles into your hands! Without any further adieu.. Here is what we worked on in June!
A lot of work has continued behind closed doors with respect to vehicles, namely sorting out the physics, handling, player interaction and gameplay systems involved. Below is a heavily Work in Progress video.
​
Vehicle handling is something we are paying careful attention to, and with that a sense of reality in responsiveness and drive capabilities of our vehicles. Not only physical behavior but also input responses are tweaked for each vehicle. Different tires and suspension designs have strength and weaknesses. For example, the technical is much more nimble compared to the armoured Humvee. This is going to provide some very interesting bits of asymmetry with the way these vehicles will be used, with Insurgents and Militia factions opting for hit-and-run tactics while the Americans and Russians prefer more stout but slower convoys to move around the battlefield.
Production has made significant progress since the beginning of the month, with Effects dealing mostly with what happens when a vehicle is damaged or destroyed as well as handling different damage types,...